My kiddos finally came down with their first real illness of the season this past week. We were on a healthy streak until we visited the doctor to get our flu vaccinations.
The irony.
When any of us feels unwell, chicken noodle soup is always my go to remedy.  If nothing else, it soothes the soul while waiting for the medication to take effect.
Everyone feels like they had a hug in a bowl, which always helps one feel a little better.
Chicken Noodle Soup: You'll need:
1 TBS extra virgin olive oil
1 carrot cut into thin crescent slices
2-3 celery ribs diced
64 oz. homemade chicken stock or store bought broth
2 cups cooked chicken chopped
1 tsp thyme
1 tsp ground black pepper
1 handful quick cooking barley
1 bag of egg noodles cooked separately and according to package directions.
Heat the olive oil in a dutch oven or stock pan. Add the carrots and celery and sauté for about 8 minutes to sweat out the flavors.
Add the chicken stock and seasonings. Bring to a boil and let simmer for 10 minutes.
Next, add the handful of quick cooking barley and let simmer for 10 minutes.
Add the cooked chicken and let simmer until heated through.
Finally, add the cooked noodles and stir.
Ladle to soup into bowls and serve with your favorite buttered bread.
Be a hero this cold and flu season!
I'm sharing this recipe as part of January's Recipe Round-Up.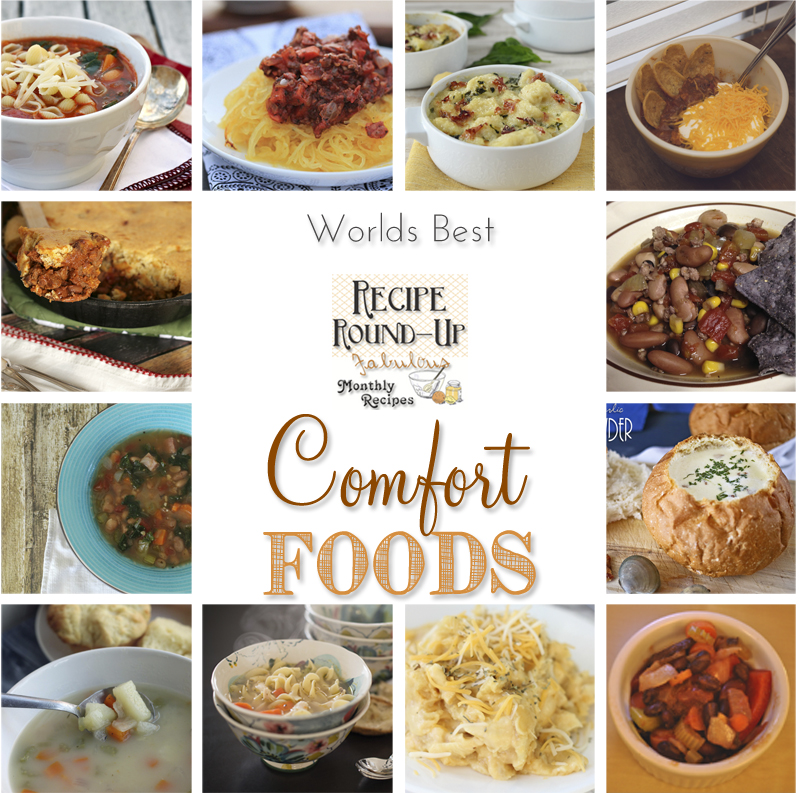 I have teamed up with a wonderful group of talented gals to bring you some of the best COMFORT FOOD recipes you'll ever find.
Check out all the other recipes by these AMAZING bloggers that have joined in this month.
Please click through for more great comfort food recipes!